Number of cancer survivors in 2012, up from 3 million in 1971
Times more likely a firefighter will develop testicular cancer compared to the general population
Increase in absorption for every 5° increase in skin temperature
Of harmful carcinogenic toxins, including benzene, chloroform, and formaldehyde, are released during fires
---
HERO WIPES® IS TOUGH ON SOOT, SAFE ON SKIN — AND NOW EWG VERIFIED™
The patent-pending formula includes:
Balanced blend of natural & synthetic surfactants to rinse away dirt and impurities from the skin;

Natural humectant and moisturizing ingredients to soothe, condition & repair the skin. Contains propanediol, aloe, cucumber, chamomile & oat extracts;

Chelating and cleaning agents help to lift away known potential carcinogens from the skin and trap them in the wipe.

In addition, one such ingredient —

Tetrasodium Glutamate Diacetate — is a multipurpose chelating agent known for its ability to sequester heavy metals associated with several health risks.
70 gsm disposable, non-woven towels are thick, tough, stretchable, and virtually indestructible compared to run-of-the-mill baby wipes or even adult washcloths.

The product is EWG VERIFIED™ for its commitment to using safe ingredients, providing transparency, and engaging in quality manufacturing practices.
Scientifically tested by an independent laboratory for effectiveness in removing carcinogenic compounds TCEP & BaP — two common harmful toxins identified as a cause of cancer. Continue reading for the test summaries.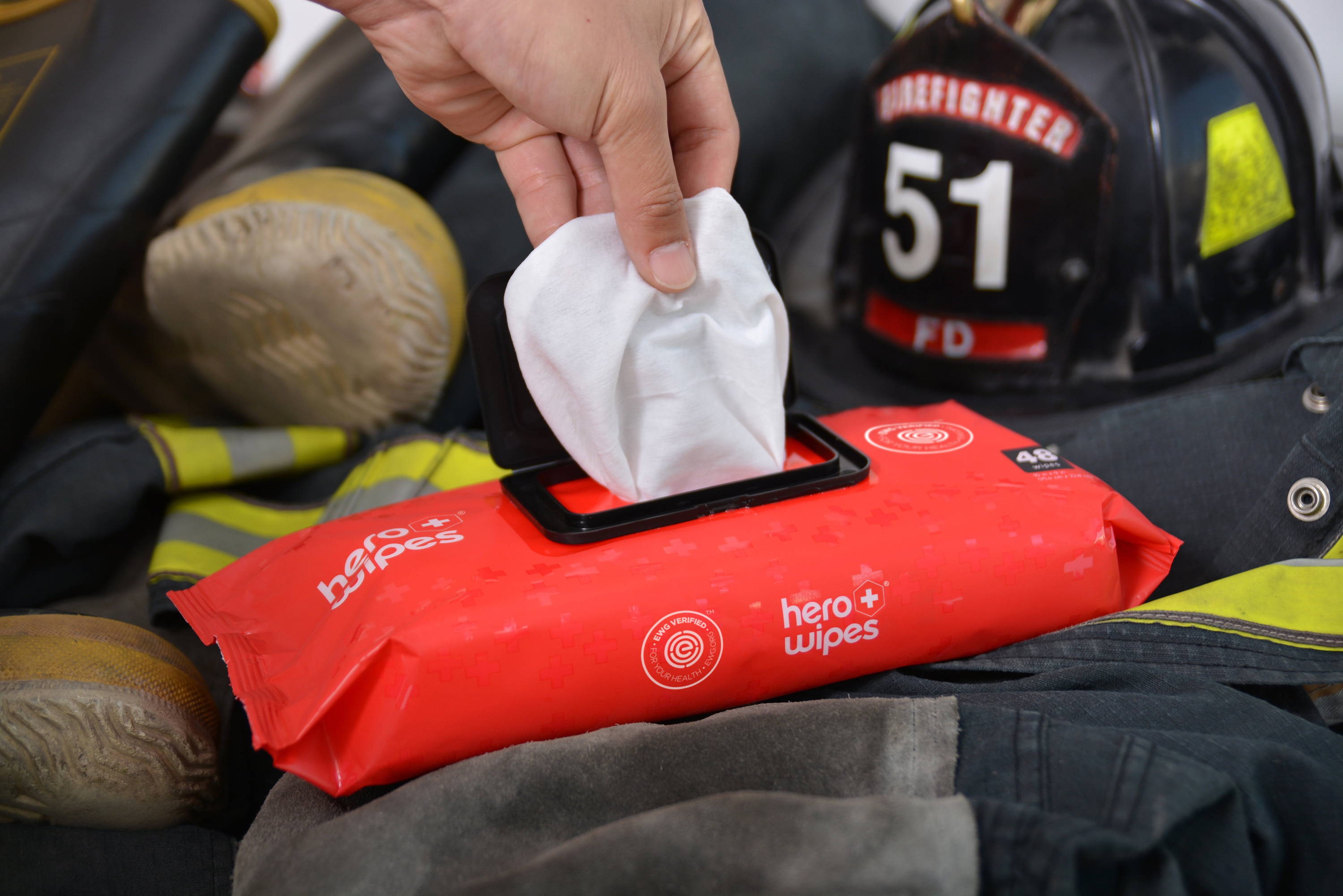 WHAT'S INSIDE HERO WIPES?!
Because Hero Wipes is EWG VERIFIED™ product, the following is the complete list of its fragrance composition: Hexyl Cinnamal, Dodecahydro-Tetramethylnaphthofuran, Benzyl Acetate, Citrus Aurantium Bergamia (Bergamot) Fruit Oil, Octanal, Decanal, Lauraldehyde, Citronellal, Beta‐Caryophyllene, Geranyl Acetate, Elettaria Cardamomum (Cardamom) Seed Oil, Cis-Jasmone, Limonene, Neryl Acetate, Octyl Acetate, Gamma Terpintene, Terpineol Acetate, Alpha‐Terpineol, 4-Terpineol, Caproic Acid, Geraniol, Orange Carbonyls, Nerol, Citrus Nobilis (Mandarin) Oil, Citrus Reticulata (Tangerine) Oil, Citronellol, Citronellyl Acetate, Coumarin, Allyl Cyclohexyloxyacetate, Dihydromyrcenol, Dipropylene Glycol, Ethyl Acetoacetate, Ethyl Linalool, Ethylene Brassylate, Pentadecalactone, Floralozone, Geraniol, Guaiacwood Oil, Methylenedioxyphenyl Methylpropanal, Allyl Alpha-Ionone, Hexenyl Acetate, Beta‐Ionone, Lavandula Hybrida (Lavandin) Oil, 3-Hexenol, Citrus Limon (Lemon) Peel Oil, Cis‐3‐Hexenyl Methyl Carbonate, Butylphenyl Methylpropional, Linalool, Linalyl Acetate, Acetyl Cedrene, Methyl Dihydroxy-Dimethylbenzoate, Nerolidol Isomers, Myristica Fragrans (Nutmeg) Kernel Oil, Phenethyl Alcohol, Sandela, Vanillin.
Ingredients
Water/Aqua/Eau, Propanediol, Aloe Barbadensis Leaf Extract, Chamomila Recutita (Matricaria) Flower Extract, Cucumis Sativis (Cucumber) Fruit Extract, Decyl Glucoside, Polyglyceryl-10 Caprylate/Caprate, Coco Glucoside, Glyceryl Oleate, Polysorbate 20, Tetrasodium Glutamate Diacetate, Trisodium Phospate, Citric Acid, Caprylyl Glycol, Sodium Benzoate, Potassium Sorbate, Phenoxyethanol, Sodium Hydroxide, Fragrance/Parfum.
Directions for Use
Always follow the onsite decontamination protocol observed by your department.
In general, use fresh, clean Hero Wipes FIRE to thoroughly cleanse before leaving the scene of a fire.
Use more than one wipe as needed.
Clean face, neck, ears, head, hands, arms, underarms, body, and nose/nostrils.
​​​​​​​See the instructional video.
Cautions and Other Information
For external use only. Keep away from reach of children. Throw used wipes in trash. Do not flush.


---
---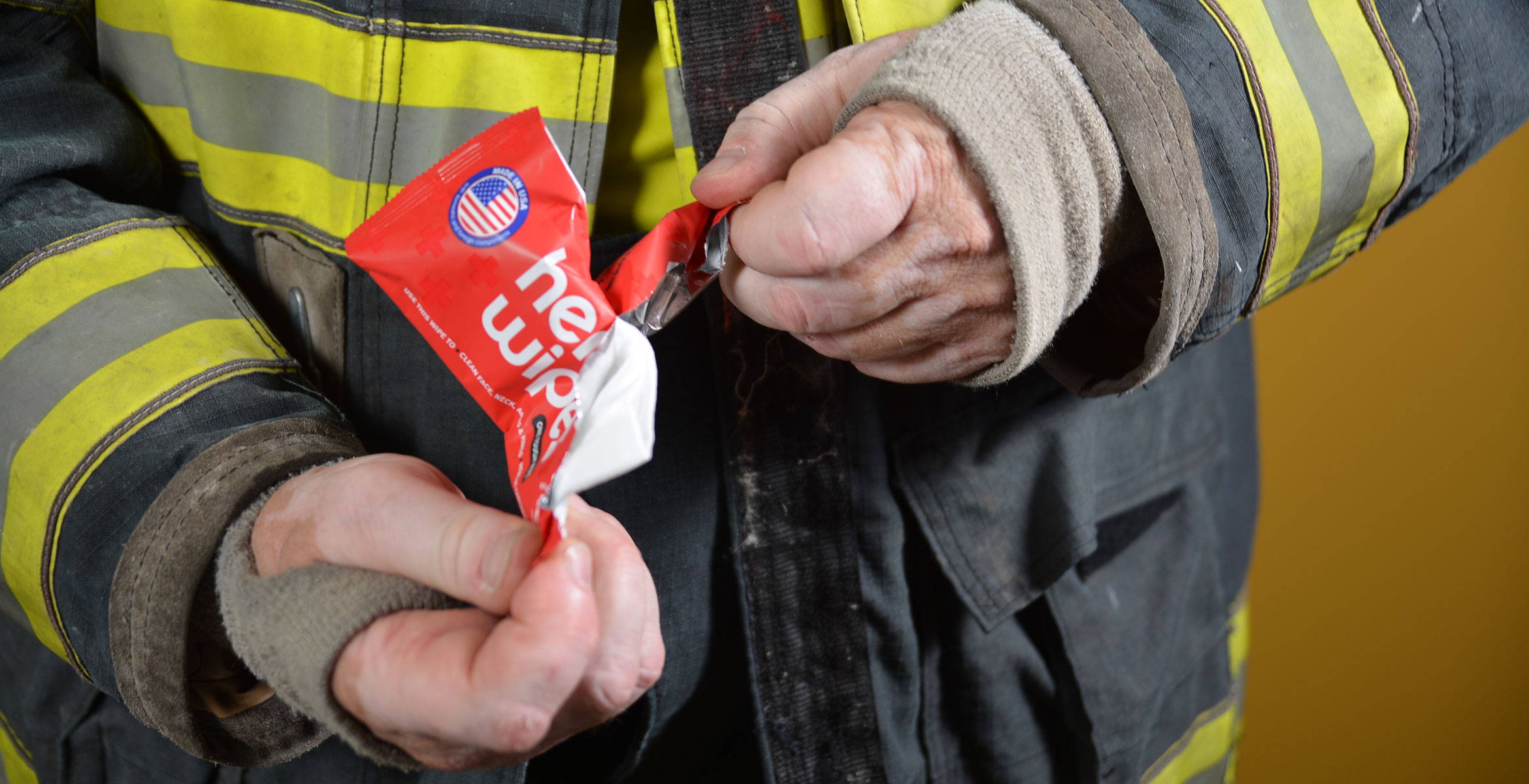 Hero Wipes are designed to sufficiently remove the known carcinogens firefighters are exposed to on the job. The main purpose of on-scene decontamination is to cut down the absorption of these harmful compounds by the skin, therefore taking a preventive measure to reduce the risk of cancer.
Hero Wipes were tested for its efficacy to remove Lead, Benzopyrene (BaP) and tris(2-carboxyethyl)phosphineTCEP (TCEP). Below are the summaries of these studies conducted by an independent, third-party laboratory, along with the downloadable reports.
---
Lead Removal
Lead is a heavy metal that has major health implications. Even low levels of lead exposure have been associated with harmful effects on health. Lead toxicity is marked by neurotoxicity, neurodevelopmental defects, gastrointestinal, kidney and bone marrow toxicity. [1]
Lead Removal Results
In this controlled study, Hero Wipes removed up to 99.7% of Lead from skin.
---
---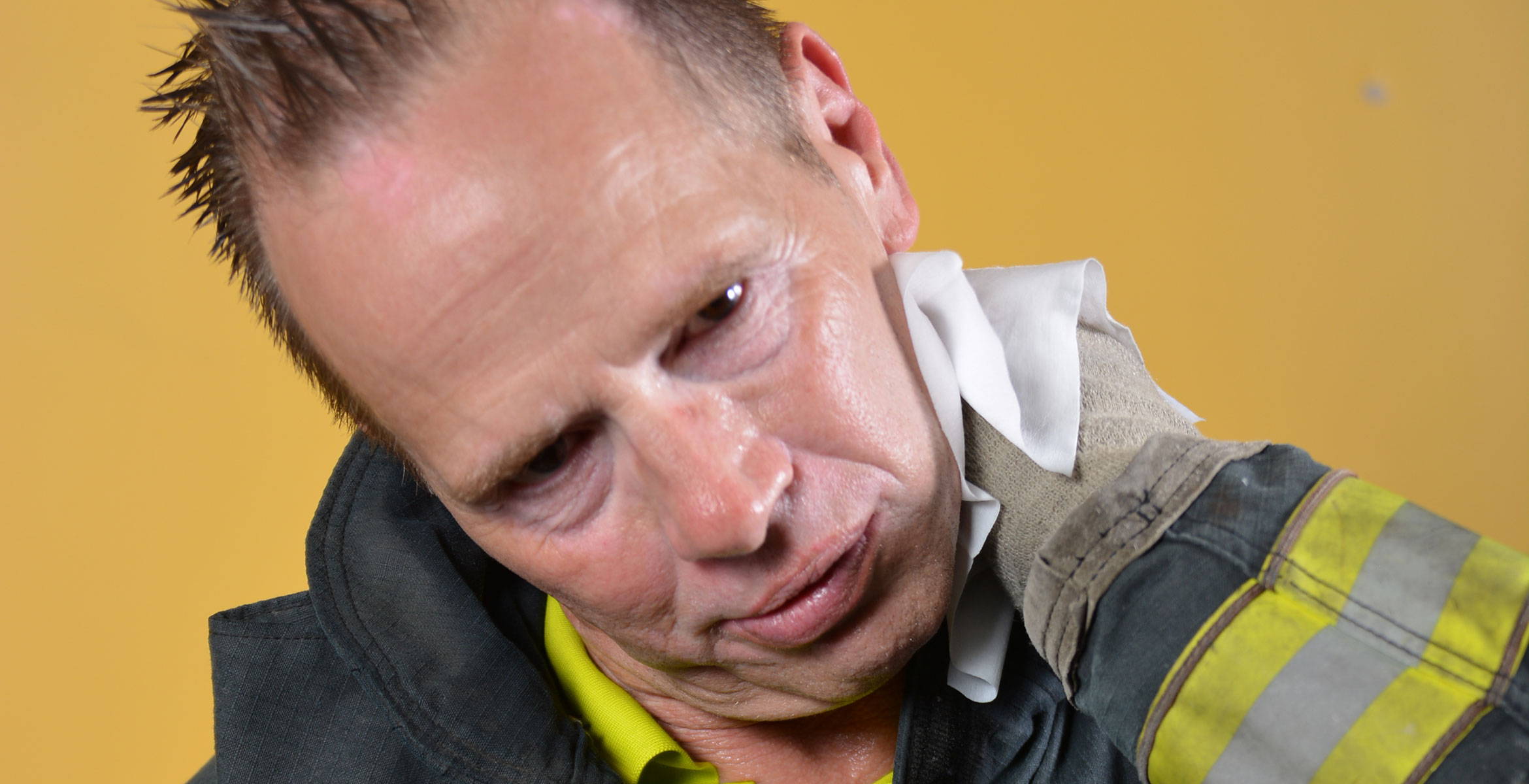 Benzopyrene (BaP) Removal
Benzo[a]pyrene is a potent mutagen and carcinogen, and a public health concern. It's found in many things, including cigarette smoke, soot, shale oil and fuel, amongst others. It also has a long list of side effects and possible health hazards to the skin, mucous membrane, and lungs.[2]
BaP Removal Results
In this controlled study, Hero Wipes removed up to 90% of BaP from a simulated skin substrate (the same substrate commonly used to test efficacy of SPF products and other OTC products, as accepted by FDA).
Hero Wipes removed, on average, OVER 3/4 of BaP (76%) with a single swipe.
---
---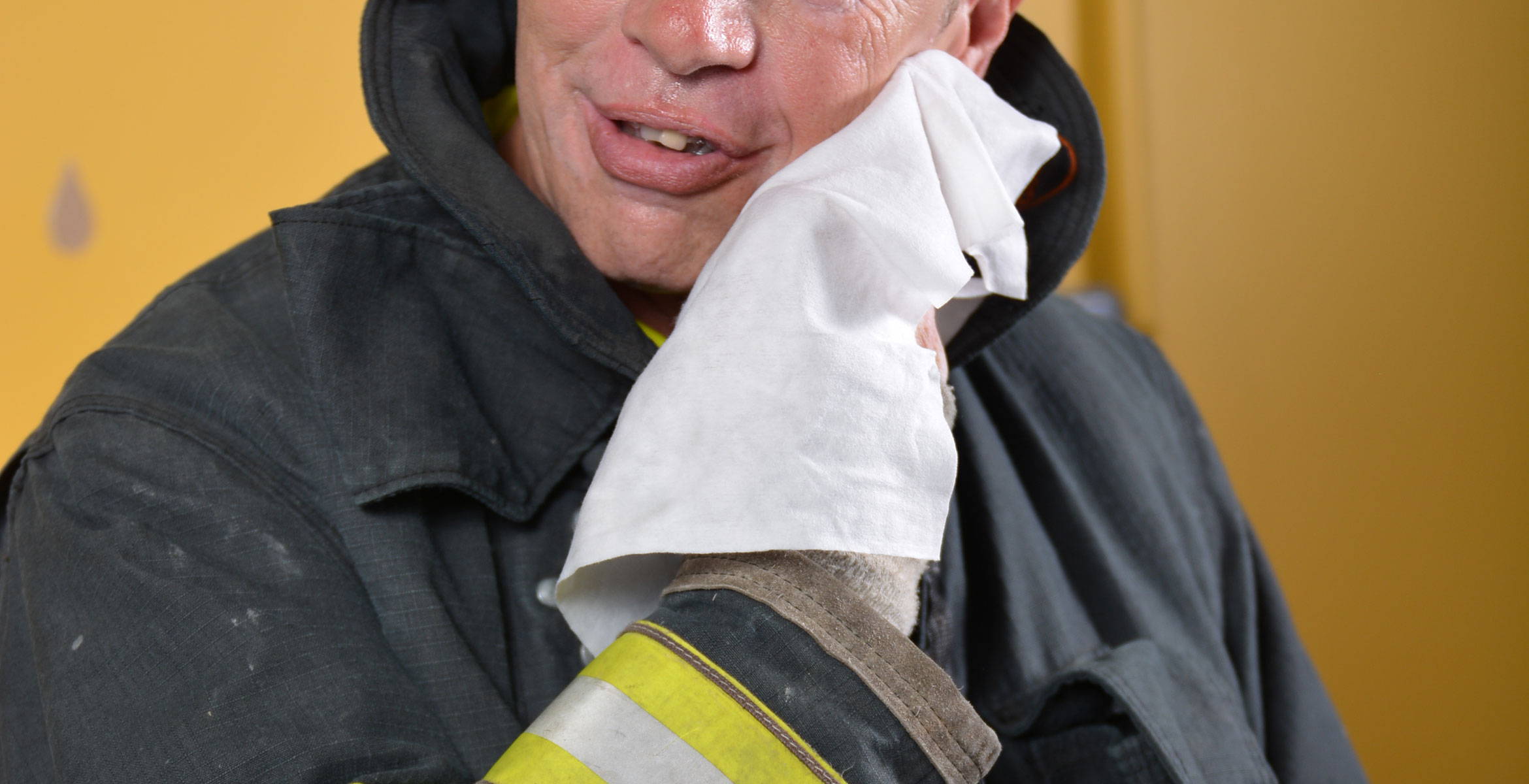 TCEP Removal
TCEP is an organophosphate chemical that is used as an additive in flame retardant. It is used frequently in household products such as furniture, including ones designed for infants and toddlers.
TCEP is known to the State of California to cause cancer and is classified by the European Commission as a reproductive toxicant (ECHA 2012; OEHHA 2011a).
Research has also shown evidence of kidney toxicity, liver toxicity, and neurotoxicity related to TCEP exposure.[1]
TCEP Removal Results
In this controlled study, Hero Wipes FIRE removed up to 69% of TCEP from a simulated skin substrate (the same substrate commonly used to test efficacy of SPF products and other OTC products, as accepted by FDA).
Hero Wipes removed, on average, NEARLY 3/4 of TCEP (67%) with a single swipe.
---
---
ULTIMATELY, WHY HERO WIPES?
As you can see, there are many reasons why Hero Wipes is the best choice for your onsite decontamination protocol. We want to help you make the best decision for your department easier and faster. So, in addition to the product SDS and the study summaries, here are the information flyers to help you visualize the key ideas quickly and painlessly. Download and share.