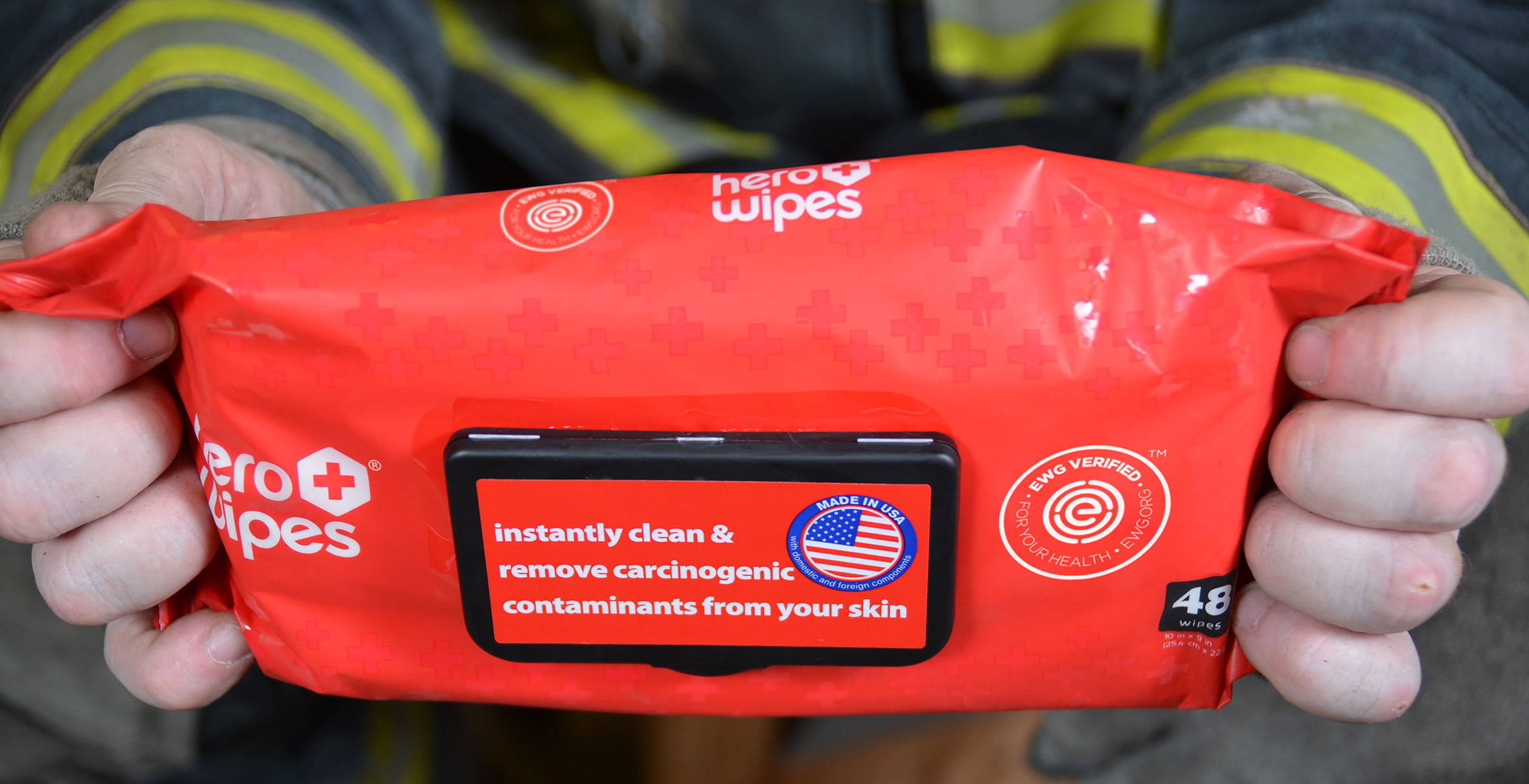 WHAT'S INSIDE HERO WIPES?!
Ingredients
Water/Aqua/Eau, Propanediol, Aloe Barbadensis Leaf Extract, Chamomila Recutita (Matricaria) Flower Extract, Cucumis Sativis (Cucumber) Fruit Extract, Althaea Officinalis Root Extract, Avena Sativa (Oat) Kernel Extract, Decyl Glucoside, Polyglyceryl-10 Caprylate/Caprate, Coco Glucoside, Glyceryl Oleate, Polysorbate 20, Tetrasodium Glutamate Diacetate, Trisodium Phospate, Citric Acid, Caprylyl Glycol, Sodium Benzoate, Potassium Sorbate, Phenoxyethanol, Sodium Hydroxide, Fragrance/Parfum.
Because Hero Wipes FIRE is EWG VERIFIED™ product, the following is the complete list of its fragrance composition: Hexyl Cinnamal, Dodecahydro-Tetramethylnaphthofuran, Benzyl Acetate, Citrus Aurantium Bergamia (Bergamot) Fruit Oil, Octanal, Decanal, Lauraldehyde, Citronellal, Beta‐Caryophyllene, Geranyl Acetate, Elettaria Cardamomum (Cardamom) Seed Oil, Cis-Jasmone, Limonene, Neryl Acetate, Octyl Acetate, Gamma Terpintene, Terpineol Acetate, Alpha‐Terpineol, 4-Terpineol, Caproic Acid, Geraniol, Orange Carbonyls, Nerol, Citrus Nobilis (Mandarin) Oil, Citrus Reticulata (Tangerine) Oil, Citronellol, Citronellyl Acetate, Coumarin, Allyl Cyclohexyloxyacetate, Dihydromyrcenol, Dipropylene Glycol, Ethyl Acetoacetate, Ethyl Linalool, Ethylene Brassylate, Pentadecalactone, Floralozone, Geraniol, Guaiacwood Oil, Methylenedioxyphenyl Methylpropanal, Allyl Alpha-Ionone, Hexenyl Acetate, Beta‐Ionone, Lavandula Hybrida (Lavandin) Oil, 3-Hexenol, Citrus Limon (Lemon) Peel Oil, Cis‐3‐Hexenyl Methyl Carbonate, Butylphenyl Methylpropional, Linalool, Linalyl Acetate, Acetyl Cedrene, Methyl Dihydroxy-Dimethylbenzoate, Nerolidol Isomers, Myristica Fragrans (Nutmeg) Kernel Oil, Phenethyl Alcohol, Sandela, Vanillin.
Directions for Use
Always follow the onsite decontamination protocol observed by your department.
In general, use fresh, clean Hero Wipes FIRE to thoroughly cleanse before leaving the scene of a fire.

Use more than one wipe as needed.

Clean face, neck, ears, head, hands, arms, underarms, body, and nose/nostrils.
See below for the insructional video.
Cautions and Other Information
For external use only. Keep away from reach of children. Throw used wipes in trash. Do not flush.